Categories:
Events, Fairs,
Summary Munich Dangerous Goods Days
We present dangerous goods labels and packaging processes
From May 23 to 25, 2022, the 32nd Munich Dangerous Goods Days took place in Munich under the motto "The future belongs to practice". Due to Corona, this was the first major event of this kind for BOXLAB Services. We used the time to welcome numerous experts on site.
Under the moderation and chairmanship of Jörg Holzhäuser, the congress offered a unique forum for information, exchange and discussion from the bundled know-how of European dangerous goods experts.
Jörg Holzhäuser
Expert knowledge from the ADR author
In addition to his activities in the Ministry of Transport of the State of Rhineland-Palatinate with a focus on "dangerous goods transport law", Jörg Holzhäuser is, among other things, the author and co-author of extensive technical literature on dangerous goods. Among them also the dangerous goods bible ADR. We are all the more pleased to have used the time also for an extensive personal exchange.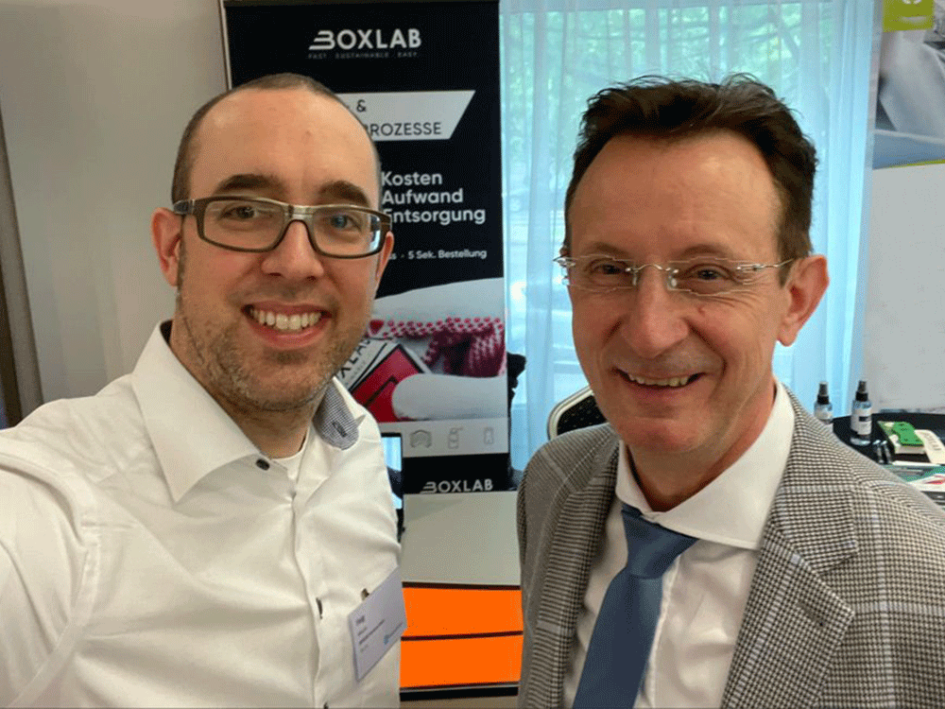 The BOXLAB Services Booth
Useful Give Aways instead of boring promotional items
In addition to intensive exchanges with Jörg Holzhäuser, we presented our system solutions in the field of dangerous goods labeling to the entire industry at our booth. Besides successful and interesting appointments with Kühne + Nagel, Clariant, Hoyer, DB Cargo, Shell, INEOS or Biesterfeld, many other interested parties enjoyed free sample folders, free squeegees and scrapers as well as sample bottles of our BIO cleaner.
Expertise on stage
The symposia at the Munich Dangerous Goods Days
Concentrated expert knowledge was evident in the numerous contributions on the main topics of legal changes and implementation in practice, developments in the waste management industry, violations of dangerous goods law from legal practice and training in times of the pandemic. On Day 2, participants were able to delve into the following special topics in parallel sessions:
Tasks of the federal monitoring authorities: The FOPH and the EBA
The electronic transport document
Experimental presentation of different dangerous goods
The third day of the conference then offered the opportunity to inform and exchange ideas in three symposia on the topics of safety data sheets in dangerous goods law, transport documents and dangerous goods in air transport.
For BOXLAB Services, these were 3 exceptionally successful days. We are therefore already looking forward to the 33rd Munich Dangerous Goods Days from May 15 to 17, 2023.