WE ARE BOXLAB SERVICES.
A FIRST ACQUAINTANCE
BOXLAB Services is an independent start-up spun off from BASF SE in the field of label and packaging process optimisation. Our founder and CEO Mischa Feig - himself a former BASF employee - came to BASF's own business incubator with his business idea of being able to replace damaged hazardous goods cardboard packaging with a patented process within one day and founded BOXLAB Services GmbH after two years, together with Lisa Ruffing, COO and Co-Founder.
Service thoughts
BOXLAB SERVICES DOES NOT SEE ITSELF AS A CLASSIC SUPPLIER OR WHOLESALER OF LABELS.
Rather, everyone at BOXLAB Services will find their very own, yet individual and standardized combination:
Pre-labeled hazardous goods cardboard boxes or drums. Including individual sealing labels if required. In addition, you can benefit from our system solutions, starting with the joint sale of label and print ribbon and extending to a fully integrated, seawater-certified label printer package.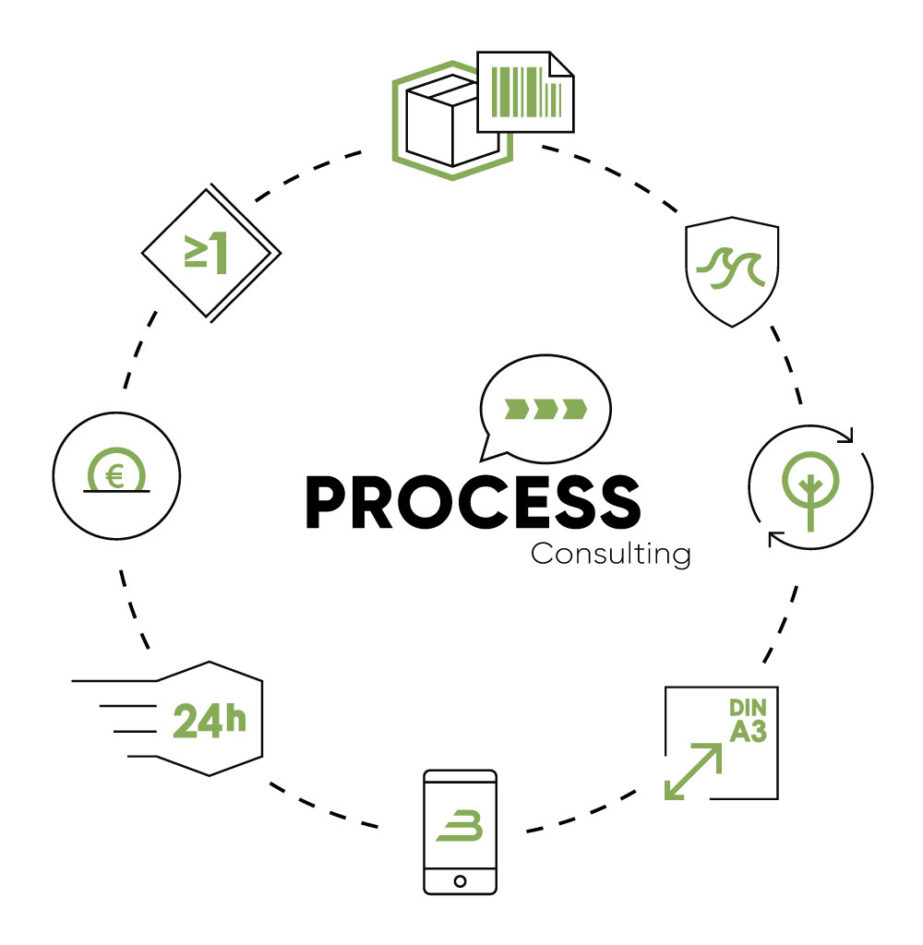 The origin
HAZARDOUS MATERIALS WERE OFTEN DISPOSED OF IN THE PAST DUE TO DAMAGED PACKAGING.
Hazardous goods transports are subject to strict regulations, including the fact that hazardous goods or substances must be transported in undamaged packaging. This in turn means that if a package is damaged, for example in an intermediate storage facility, the product contained in it often ends up in hazardous waste, since there is of course no adequate replacement available.
It is even worse when track & trace methodologies are integrated into the shipping and packaging process, because then the number of units on a pallet is also included in the digitized information and cannot be changed. Thus, in such a case, the entire pallet would be left standing. BOXLAB Services solves these problems – in 24 hours!
The next step
WHO NEEDS DANGEROUS GOODS CARDBOARD BOXES, ALSO NEEDS DANGEROUS GOODS LABELS
A development that was all too obvious. The original service idea of BOXLAB Services solves an enormous logistical problem with avoidable negative ecological effects, but it is also only a small part of a much larger area within a supply chain. That's why, shortly after the launch of BOXLAB Services and the labeled hazardous goods cartons, the introduction of
of our individually printable hazardous goods labels – placards and hazard labels. As is typical for BOXLAB, we also focus on service and try to optimize as many aspects as possible in the areas of sustainability and efficiency for our customers. That's why we deliver, unusually for the industry, from as little as 1 piece and throughout Europe within 24 hours.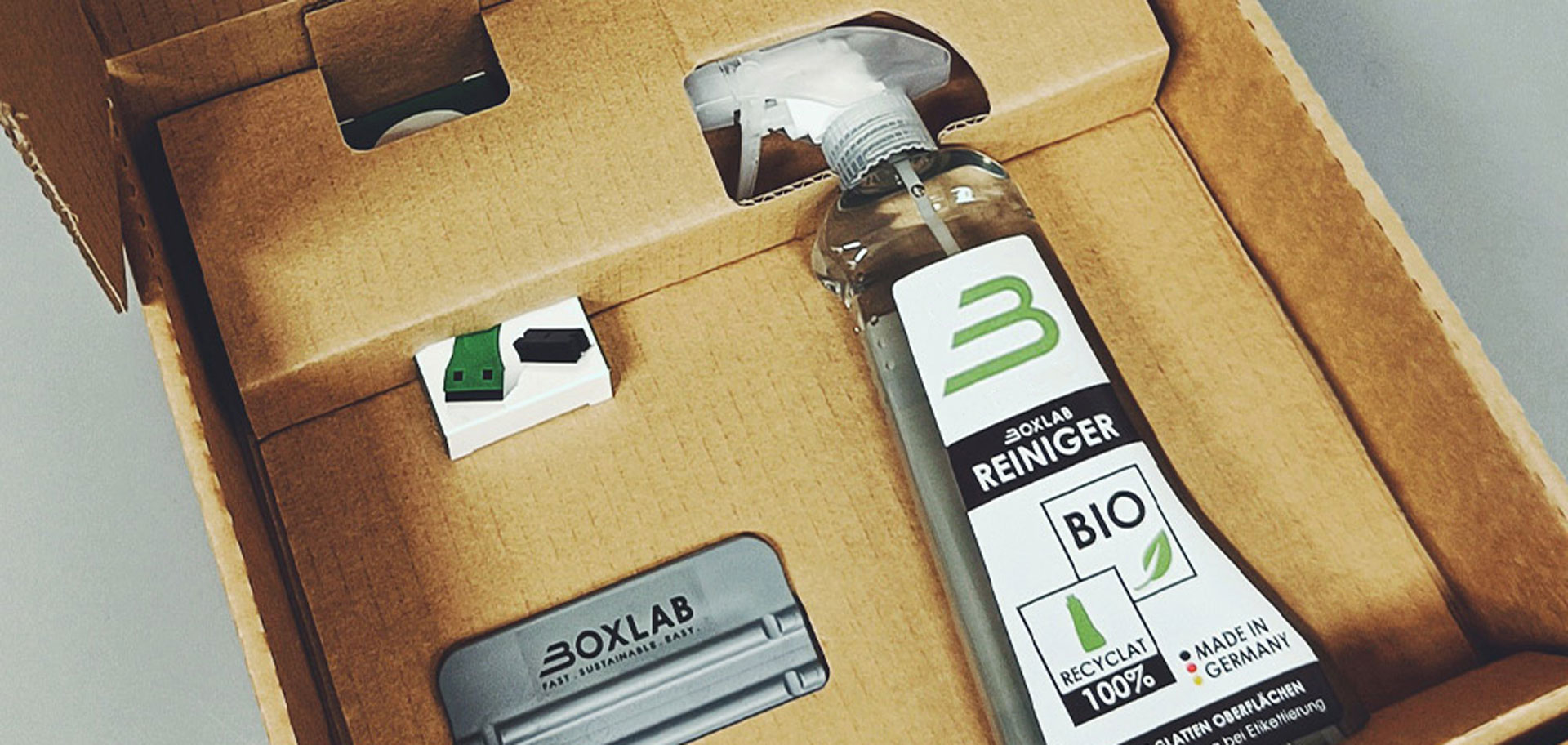 Perfectly thought-out system solutions
LABELS TURNED INTO A PROCESS. THE BOXLAB SERVICES SYSTEM SOLUTION.
The logical consequence of service and high-quality labels? For BOXLAB Services, quite clearly: the proper preparation and labeling of those very labels. That's why we offer our customers not just labels, but a system solution for the entire labeling process. Three tools are the key to a perfectly applied placard. A hazard-free plastic scraper for easy removal of old placards – even with gloves! Our BIO cleaner for easy cleaning of the surface.
No hazardous material – No problem for people and the environment. And perhaps the most underestimated tool we have in the program: The BOXLAB squeegee for easy application of fresh placards with the necessary contact pressure – completely without bubbles and without protruding edges or corners. This way, the placard is guaranteed to keep its promise – namely its ADR-compliant seawater resistance according to BS 5609 Section III.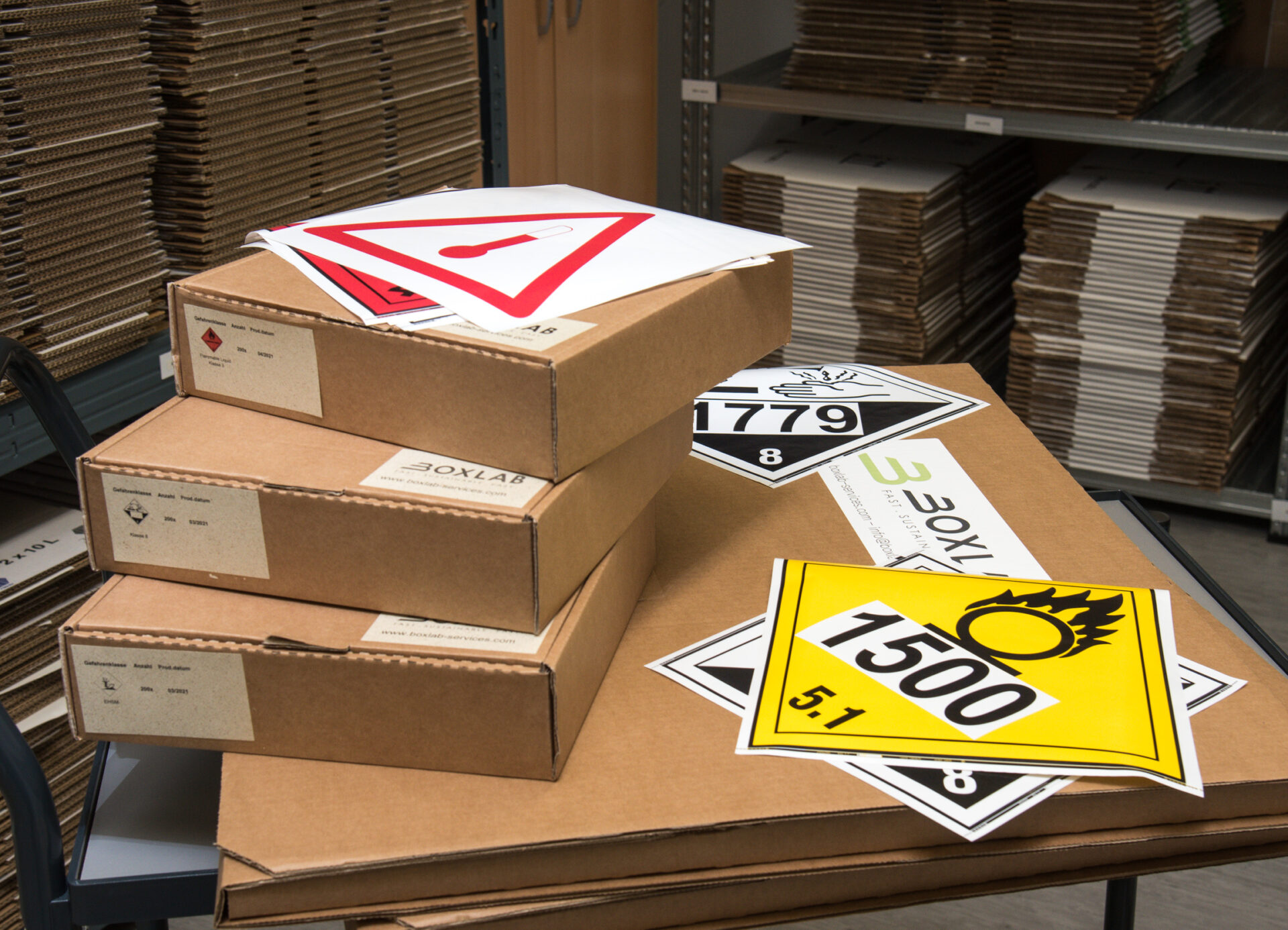 No end in sight
MORE AND MORE PRODUCTS AND SOLUTIONS FOR OUR CUSTOMERS.
Since its foundation, BOXLAB Services has been constantly developing. For us, this includes not only healthy growth and the acquisition of new customers, but also the constant questioning of our offer and the inclusion or development of new products and services.
Examples of this are our seawater-certified product combinations of printers, thermal transfer ribbons and labels, or innovations in the field of labels such as the customizable BOXLAB security labels.
F.A.Q.
There are no stupid questions
Who is BOXLAB Services?
BOXLAB Services is an independent start-up spun off from BASF SE in the field of label and packaging process optimization. We optimize label and packaging processes in the areas of procurement, storage, handling and disposal – especially in highly regulated industries. To this end, we provide individual services that reduce waste, costs and complexity for our customers.
What makes BOXLAB Services different?
BOXLAB does not see itself as a classic supplier or wholesaler of labels. Rather, we see ourselves as a service provider. Together with our customers, we optimize label and packaging material processes in the areas of procurement, storage, handling and disposal through individually developed system solutions, and the associated increases in efficiency. We set ourselves the standard of making quick decisions and serving our customers promptly. In doing so, we give unrestricted priority to process reliability and quality.
Is BOXLAB Services a BASF subsidiary?
No. BOXLAB Services GmbH is not a subsidiary of BASF.
BOXLAB Services originated from the idea of our CEO and founder Mischa Feig, who was a BASF employee for a long time. This is how the idea of BOXLAB Services and Mischa came to the BASF incubator Chemovator. After two successful years, BOXLAB Services was founded as an independent GmbH.
What is BOXLAB Services' position on sustainability?
Since the beginning of BOXLAB Services, sustainability has been at the core of the company's activities. BOXLAB Services tries to make a significant contribution to environmental protection by consistently focusing on sustainability and climate protection in every internal process step, as well as in our products and services. We do this in various ways.
What products and services does BOXLAB Services offer?
BOXLAB Services offers its customers classic products such as labels and packaging materials, as well as their individualization, and combines them in various combinations, adapted to the needs of each customer. We at BOXLAB call this: system solutions. In this way we create new standards, which offer you enormous advantages in the areas of ordering, storage space, handling and disposal.
What partnerships does BOXLAB Services have?
BOXLAB Services maintains partnerships with service providers, suppliers, customers and friendly companies. We are constantly trying to expand this network, because we believe that a strong network is the foundation for economic success. Therefore, we welcome any form of contact from customers and potential partners.
Some of the most important partners of BOXLAB Services are:
BASF SE
TZL – Regional Innovation Center Ludwigshafen
DHL Express