Categories:
Industry News, Products, Starter sets, Sustainibility, Tips & Tricks,
The importance of handling lithium-ion batteries:
A responsibility for all involved
Lithium-ion batteries have revolutionised our modern world and have become an indispensable part of our everyday lives. Whether in smartphones, laptops or electric vehicles, they have become a driving force for innovation and mobility. However, these batteries also bring challenges, especially in terms of safe handling and transport. In this paper, I would like to emphasise the importance of not only users and shippers/consignees, but also everyone involved in the entire processes should understand how to handle lithium-ion batteries and be aware of the associated hazards.
The handling of lithium-ion batteries:
Lithium-ion batteries offer high energy density, which makes them efficient and powerful. However, they can also be dangerous under certain circumstances. Improper handling or damage can lead to short circuits, overheating and even fires. Therefore, it is of utmost importance that anyone who comes into contact with lithium-ion batteries has the necessary knowledge and safety precautions.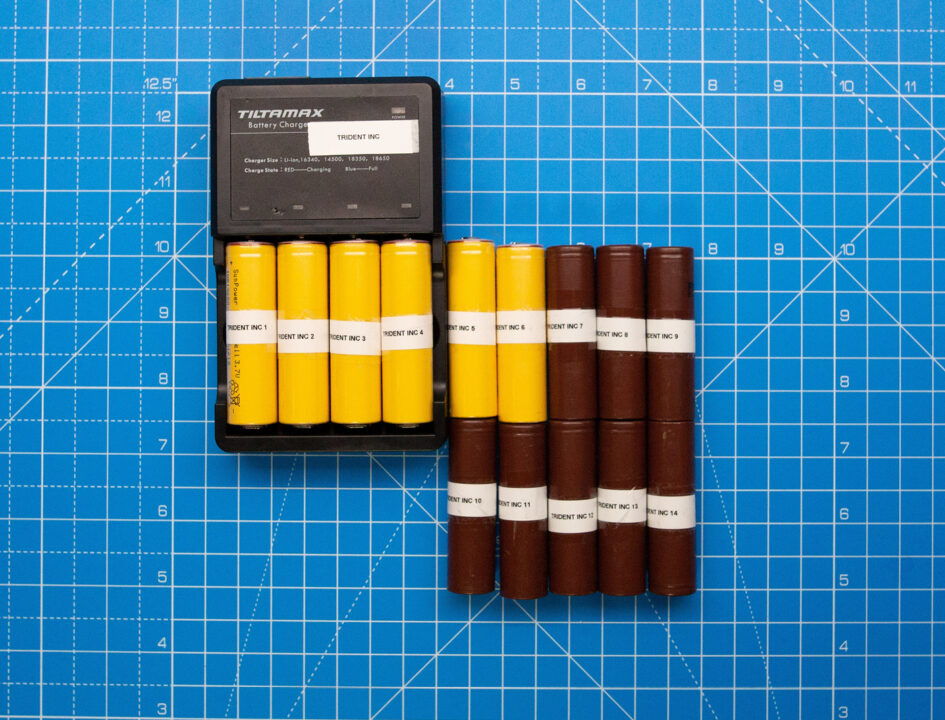 Responsibility of the user:
As users of equipment containing lithium-ion batteries, we have a direct responsibility for their safe use. It is important to read and follow the manufacturer's instructions, especially with regard to charging, storage and avoiding damage. We should never use or attempt to repair damaged batteries. Instead, we should dispose of defective batteries properly and be aware that they are a potential fire hazard.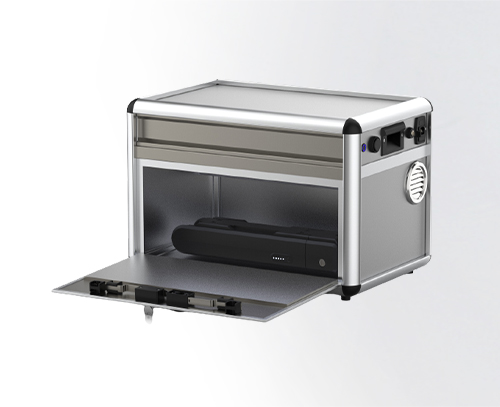 Responsibility of the consignor/consignee:
Special regulations and guidelines apply to companies that ship or receive lithium-ion batteries. One crucial measure is to mark the batteries according to the regulations. This is where the ADR SV 188 labels come into play, which were developed specifically for lithium-ion batteries. These labels signal to shippers and consignees that the goods are dangerous goods and provide instructions for safe handling. It is important that shippers and consignees recognise and respect these labels to ensure safety throughout the transport.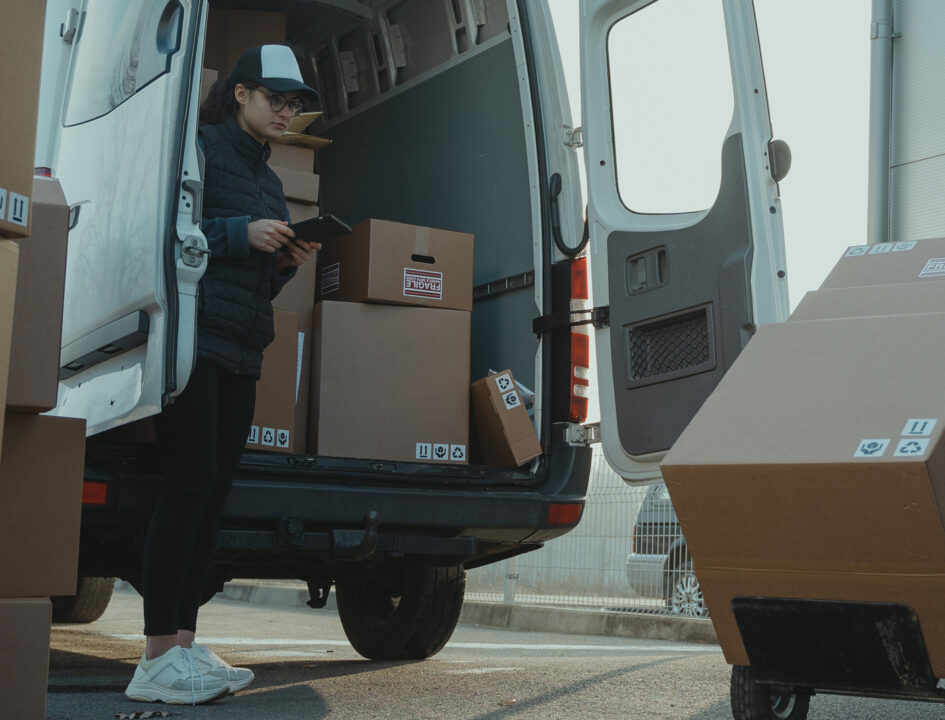 The role of all involved:
Our story of a recent incident illustrates that the handling of lithium-ion batteries is not limited to users and shippers/consignees. In this case, an employee of a transport company accidentally taped over the dangerous goods label on a package containing a commercial device with a lithium-ion battery. This incident highlights the need for everyone involved in the processes of transport and delivery to understand the hazards and regulations regarding lithium-ion batteries.
The consequences of illegible or overstuck labels
The incident where the dangerous goods label on the parcel was taped over illustrates the potential dangers that can arise when labels become illegible or are ignored. Especially in scenarios where the parcel is temporarily stored in a branch, the consequences can be severe.
Lack of identification of the dangerous goods:
The label is used to inform transporters and other parties involved that the goods are dangerous goods. If the label is illegible or taped over, the dangerous goods cannot be properly identified. This leads to an increased likelihood that the package will be mishandled or stored in an environment that does not meet the required safety standards.
Improper storage:
Lithium-ion batteries require special storage due to their potential fire risk. If the label is not clearly visible or does not comply with the requirements, there is a risk that the package will be stored in an environment that is not suitable for dangerous goods. This can lead to an increased likelihood of fires or other dangerous situations.
Lack of precautions:
The label is not only used to identify the dangerous goods, but also contains important instructions for safe handling. If the label is illegible or has been taped over, this information will be lost. People working in the shop may not be adequately prepared for the specific risks of lithium-ion batteries and may not take the necessary precautions to avoid accidents.
Delayed response to emergencies:
In the event of an accident or unexpected situation, such as a battery leak or fire, it is crucial that everyone involved reacts correctly immediately. If the label is illegible or taped over, this can lead to confusion and a delay in responding to the incident. This can widen the damage and increase the risk to staff and the environment.
The illegibility or oversticking of labels on packages containing lithium-ion batteries can have serious consequences. From failure to identify the dangerous goods to improper storage and lack of precautions, the risks are many. To avoid such situations, it is essential that everyone involved in the entire process of transporting and storing lithium-ion batteries understands the importance of labels and ensures that they are always clearly visible and legible. This is the only way to ensure safety and minimise potential hazards. The safe handling of lithium-ion batteries requires a shared understanding and commitment from all parties involved. From users to transport companies, everyone should be aware of the dangers and take the necessary precautions to prevent accidents. At BOXLAB Services, we understand the importance of this responsibility and offer not only ADR SV 188 labels for lithium-ion batteries, but also safe and certified boxes for charging and storing these batteries. Together we can help ensure that lithium-ion batteries are used safely and effectively in our modern world, without compromising on safety.
Available from stock
Labels in the new format in various designs
We are pleased to announce that BOXLAB Services has already responded to the change in the minimum size and layout for marking lithium batteries in ADR 2023. We have included labels in the new format and layout in our range and offer them in various designs. Whether you need single sheets, rolls of 500 or 3000, we have the right quantity for your needs. All our dangerous goods labels are seawater resistant in accordance with BS 5609 Section III, which means they remain durable and highly visible even in harsh environments, including sea transport.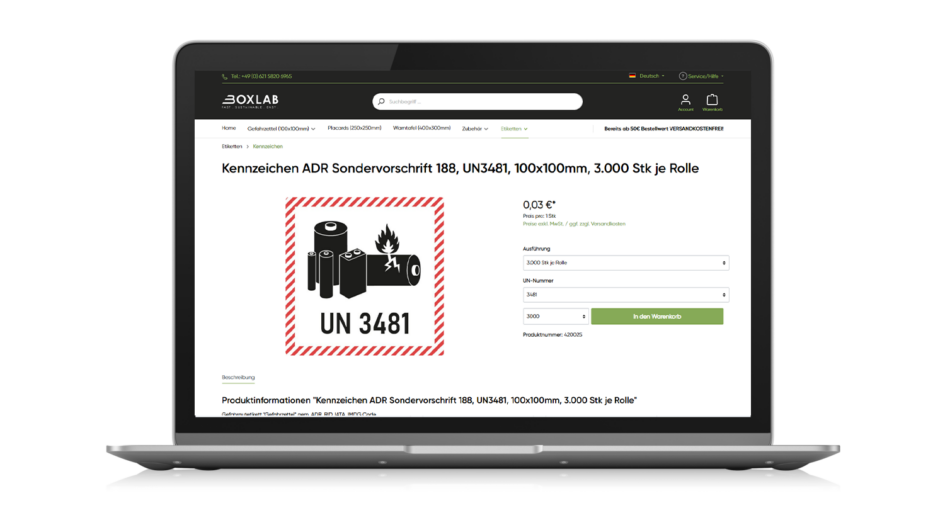 ADR 2023
Many changes. Transition period ends on 30 June 2023
It is important to note that the changes in ADR 2023 regarding the marking of lithium batteries are just one of many changes that have been made to make the transport of dangerous goods by road safer. It is essential that all parties involved, from manufacturers to transport companies, comply with the regulations and fulfil their responsibilities for the safe transport of dangerous goods.
At BOXLAB Services, you can not only order the new ADR 188 labels in a variety of designs, but also a handy starter kit to ensure you comply with all the latest regulations. The ADR 2023 Starter Kit not only contains the current regulations, but also a selection of 100 samples of danger labels and/or "Lithium Battery Label ADR Special Provision 188" individually compiled by you.
With the Starter Kit, you are therefore well equipped to implement the new regulations and ensure that your dangerous goods transports comply with the current requirements. Please note that the transition period for implementing the new regulations expires on 30 June 2023. Order your Starter Kit now and be optimally prepared!