Categories:
Company, Placards, Products, Tips & Tricks,
Cheap dangerous goods labels
thanks to cross-product graduated pricing
At the end of January 2023, BOXLAB Services introduced another industry first in its own online shop
openshop.boxlab-services.com.
online store openshop.boxlab-services.com: with the newly available smaller minimum order quantities and increments of 25 pieces and the accompanying graduated price from a full packaging unit of 250 pieces, BOXLAB Services introduced the "cross-product graduated price".
Der produktübergreifende Staffelpreis funktioniert denkbar einfach: Die kombinierbaren Placards haben dieselben Staffeln (ab 1 und ab 250 Stück). Sie legen nun einfach die gewünschten Placards der gewünschten Gefahrgutklasse¹ in den Warenkorb und erhalten ab einer vollen Verpackungseinheit (250 Stück) automatisch den günstigsten Preis aller sich im Warenkorb befindlichen Produkte.
Somit erweitern wir erneut die innovativen Services für unsere Kunden.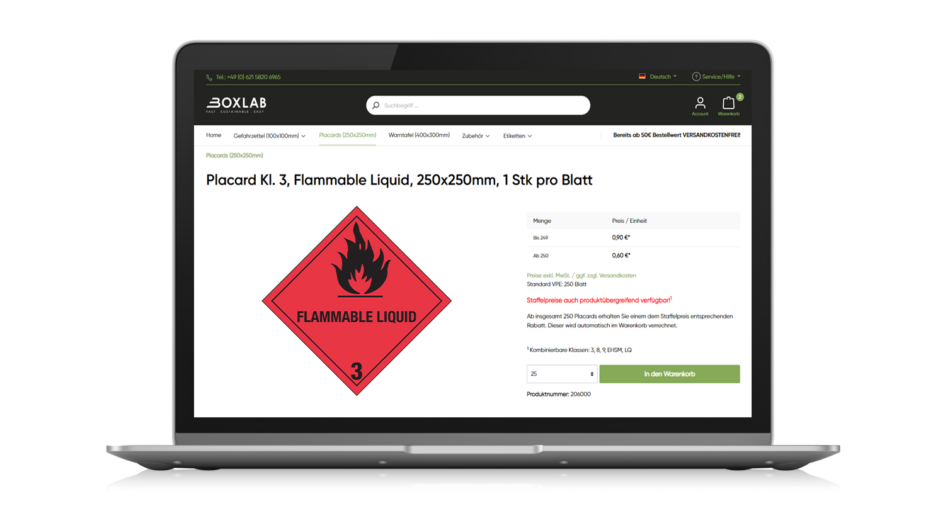 Test with the most common combinations
The function is currently in an extended test phase and is already available to our customers for the most common combinations of placards. "By having already enabled the feature for hazard classes 3, 8, 9, as well as for placards EHSM and LQ, our customers already benefit from the cross-product scale price for most orders, as these items are often needed and purchased in combination," explains Lisa Ruffing, COO of BOXLAB Services. "In addition, compared to many other providers, we offer a large number of individual articles, because with us each UN number has its own article number, so the customer not only sees a preview image directly for each UN number, but we also expand the flexibility in ordering many times over," adds Mischa Feig, CEO of BOXLAB Services.
In the course of introducing our cross-product graduated prices, we have also expanded our other product portfolio. Just as we did in December with the hazard labels, we have now expanded our placards to include classes 1, 2.2 (individualized), 4.3 (individualized), 5.2 and 6.2.
We will be happy to handle inquiries about hazard class 7 personally.
All our dangerous goods labels in the online store