Categories:
Company, Products,
Now everyone can order!
SIMPLY ORDER HAZARDOUS GOODS LABELS ONLINE
Shortly after the move on September 1st, 2022, we launched a new open online shop on October 4th, 2022.
The most notable change compared to the previous BOXLAB Services online shop is that openshop.boxlab-services.com is an open shop. This means that interested corporate customers can create an account themselves, view the current net sales prices and place orders.
Due to the move to new premises and increased operational capacities, as well as the even closer cooperation with our suppliers in terms of quality and logistics, we can now also freely offer our range of products and services to every corporate customer and keep our performance promise "From a quantity of 1 and availability throughout the EU in 24 hours".
The new BOXLAB Services online shop for hazardous goods labels was also built on a modern and user-friendly interface. The menu navigation, as well as the filter and search options are designed to make the ordering process as intuitive and fast as possible for the customer. Extensive filter options quickly lead you to the desired standard label in the right hazard class. Simply enter the number of items, send the order – and the goods will be with you shortly. In the case of an individual impression in placards and warning signs, the information can simply be given in the shopping cart. BOXLAB Services takes care of the rest.
Your benefits at a glance
Categories
In the shop you will find a simple classification into the most important categories in the field of hazardous goods labelling. In addition to placards, danger labels and warning signs, BOXLAB Services also offers accessories and individualized labels according to customer requirements.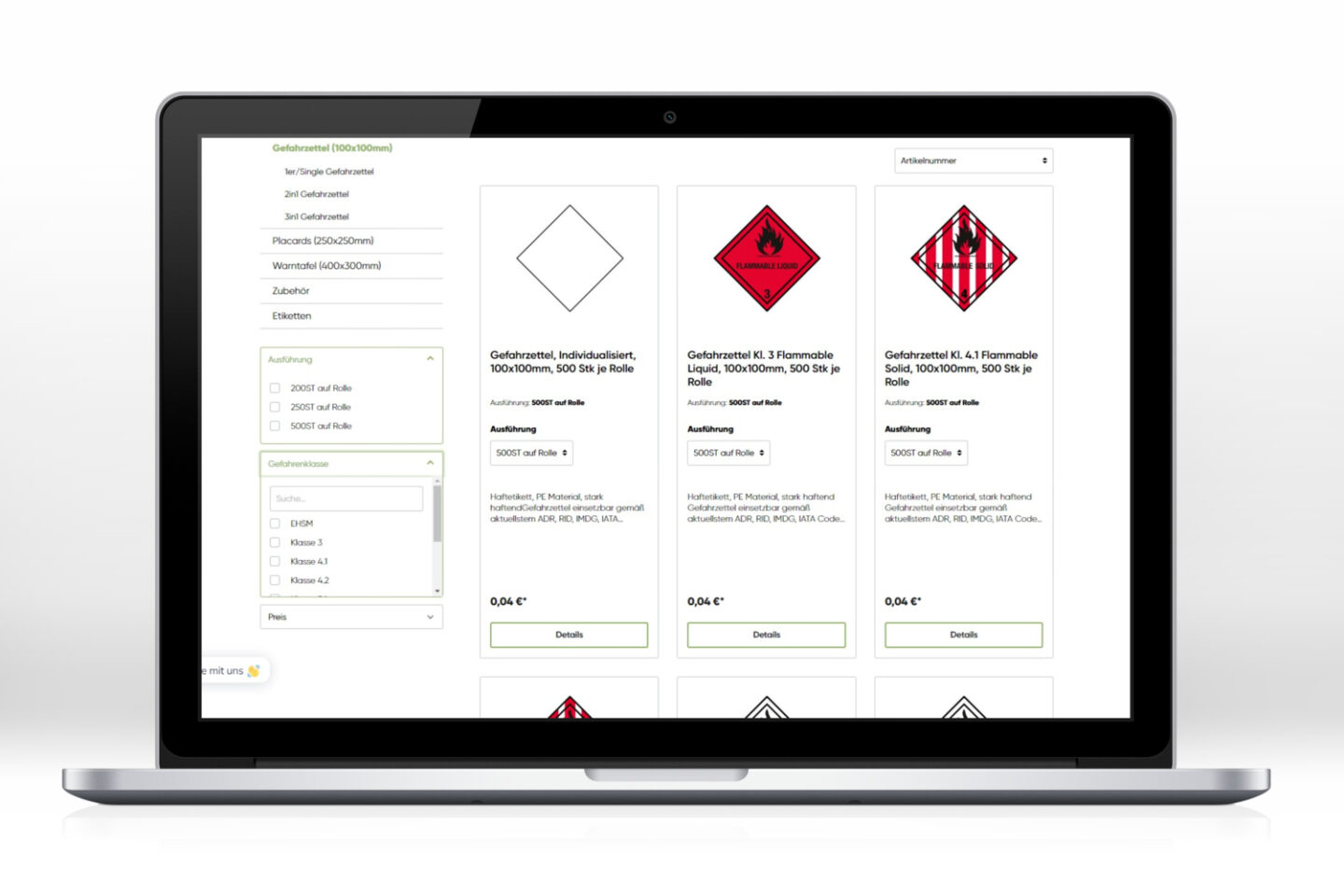 Filter
All our products are categorized in detail. Accordingly, we maintain our data for you, so that a few clicks on the filter are enough to get to the right products.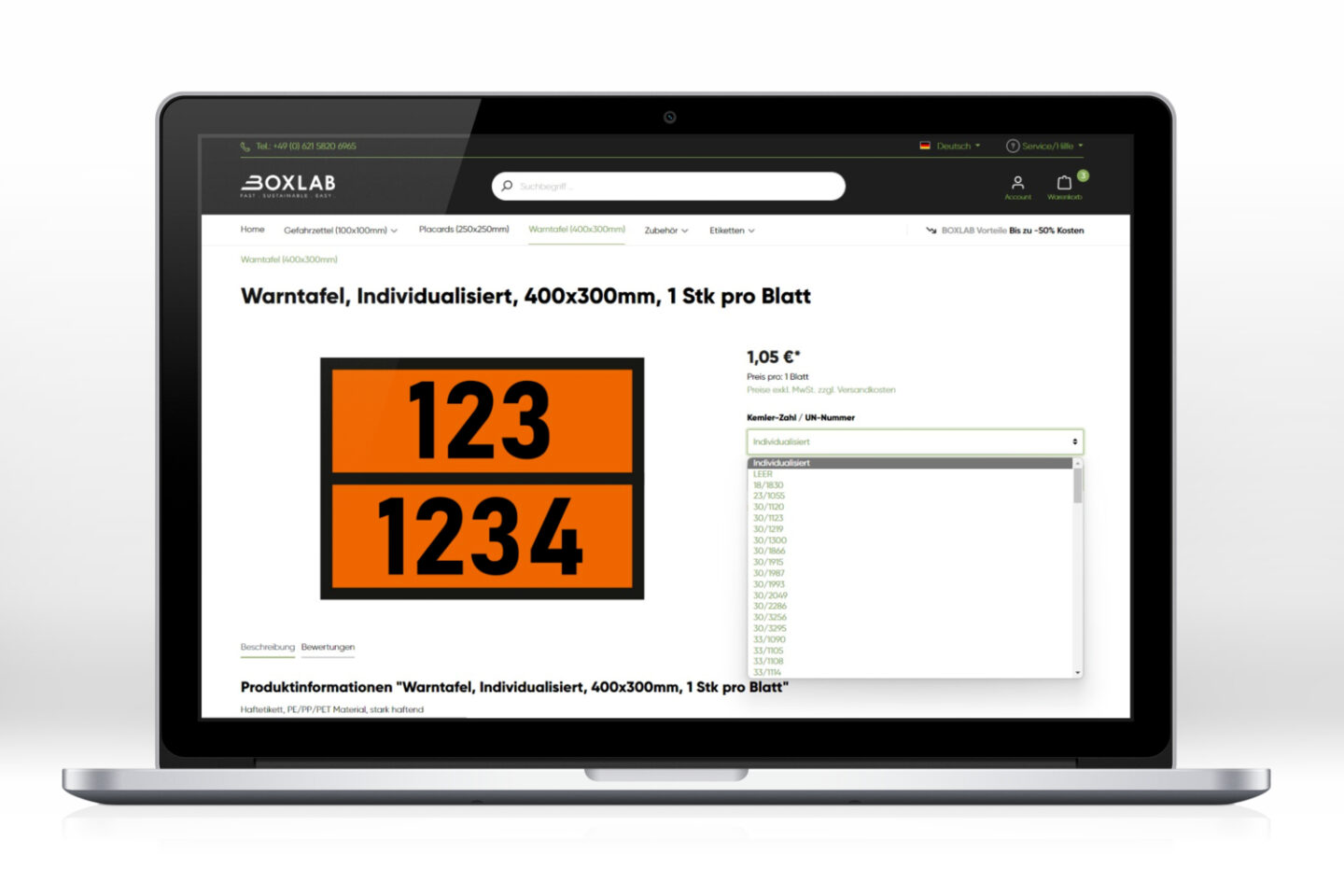 Individualized
Whether placards, warning signs or technical names. In addition to a large selection of pre-printed combinations, BOXLAB Services also offers you your individual impression. Simply select the "customized" option and specify the text to be printed during the ordering process.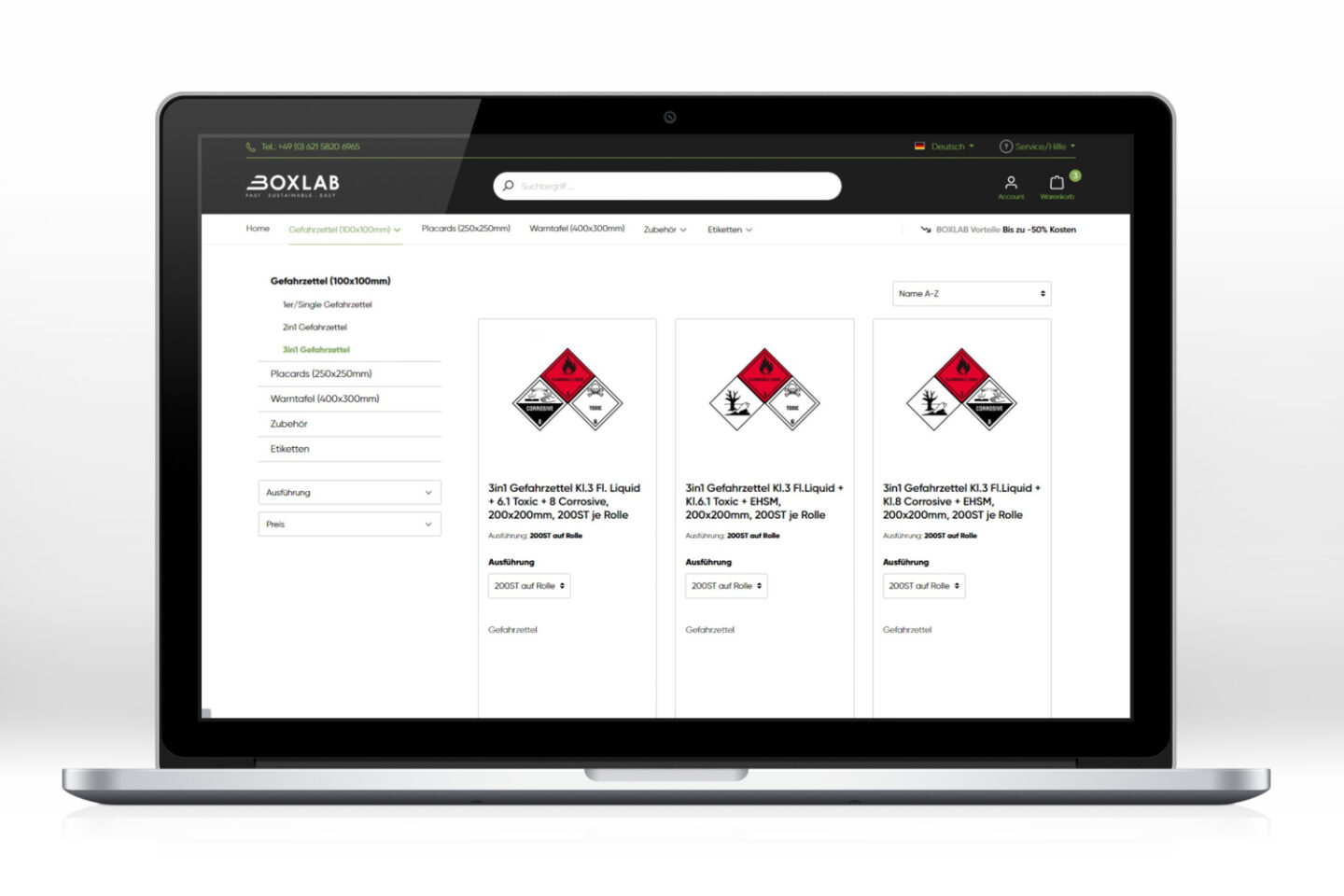 New products
In addition to our hazardous goods labels in standard dimensions, we also offer innovative label combinations. This includes our unique 2in1 and 3in1 danger labels, which meet all the requirements of ADR & Co. And that at no extra charge compared to 2 or 3 individual labels.
Our dangerous goods labels in the online shop
For existing customers, nothing will change for the time being.
In the shop we are currently forming the most important products in standardized packaging units. We are happy to process deviating packaging units personally on request.