Categories:
Company, Industry News, Placards, Products, Tips & Tricks,
Efficient ordering process for technical names, dangerous goods labels and orange warning signs
Novelty in the dangerous goods industry:
As a dangerous goods expert, it is crucial to stay up to date and find the best solutions to the challenges in our industry. Today we would like to introduce you to an exciting innovation that revolutionises the ordering process of Technical Names, Dangerous Goods Labels and Orange Warning Signs. BOXLAB Services has managed to find a faster and easier way to order these important safety products – all without time-consuming research.
Individualised dangerous goods labels
At BOXLAB Services, we have long stood for quality and customisation. In addition to many dangerous goods labels such as danger labels, we also offer individualised placards and warning signs. The orange warning sign is an indispensable element in the transport of dangerous goods, as it clearly indicates the hazardous nature of the contents.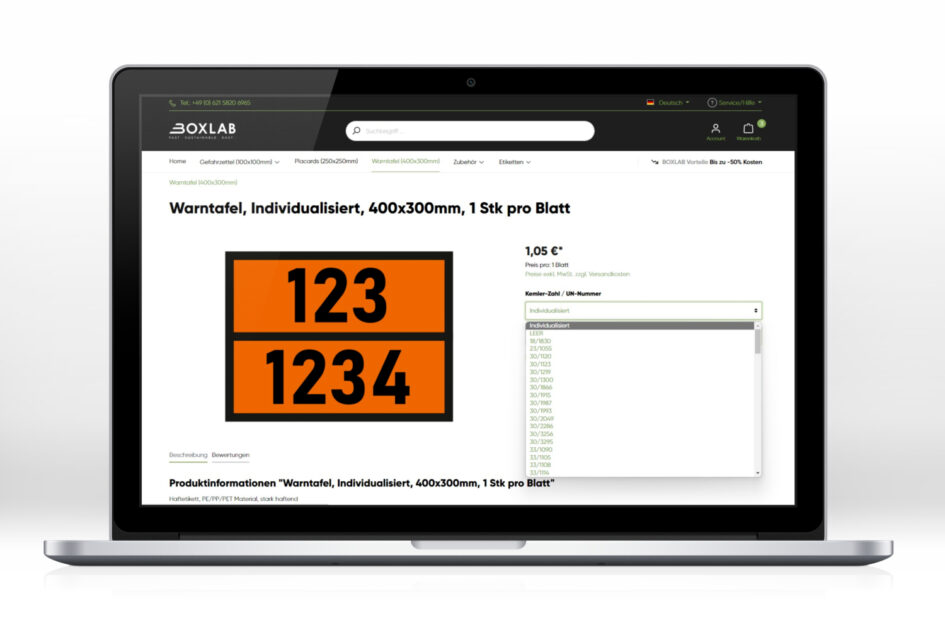 Technical names matching the UN number
Until recently, however, it was often a tedious task to order the right technical names for one's dangerous goods labels and warning signs. You had to manually research and gather various information such as UN number, technical name and Kemler number to find the right products. This cumbersome ordering process often led to errors and delays.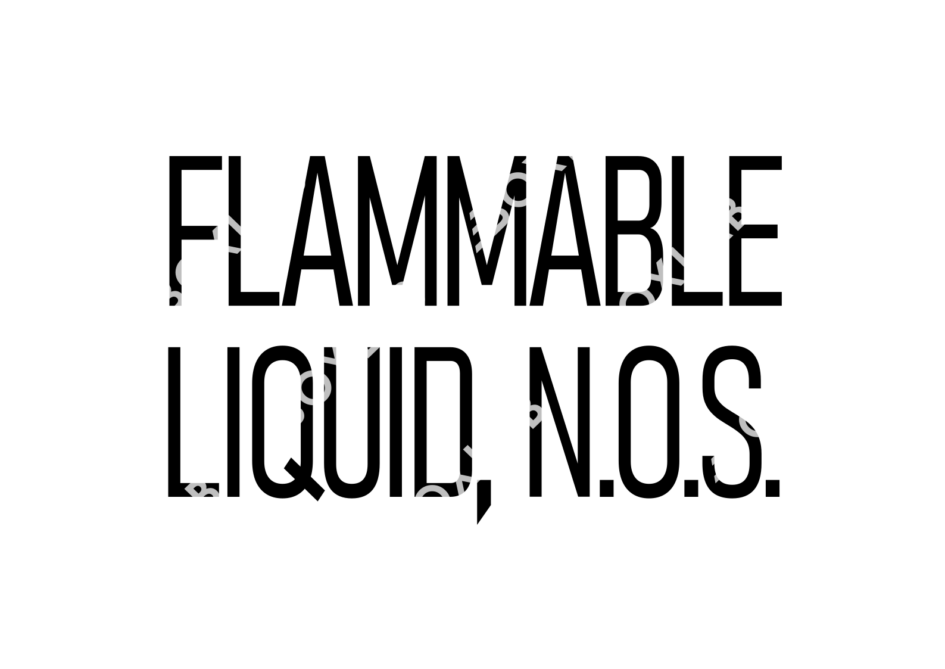 But now, at BOXLAB Services, we have found a way to simplify this process while ensuring that all the necessary information is available. With our latest innovation, you can find the right dangerous goods labels and warning signs directly through our search function. Simply enter the UN number and you'll get the relevant products.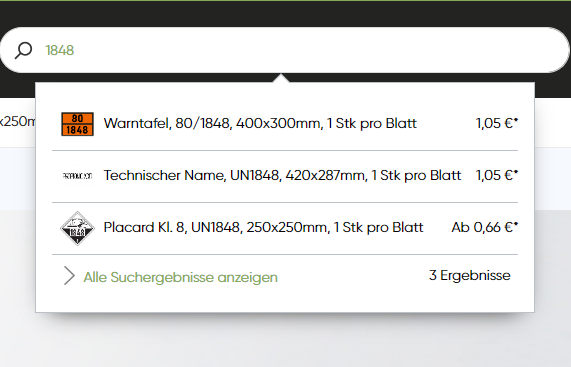 Alternatively, you can call up an individualised placard or warning label and go directly to the corresponding technical name via the information on the UN number under the product description. This connection exists for all individualised labels with an imprinted UN number and is constantly being optimised and expanded.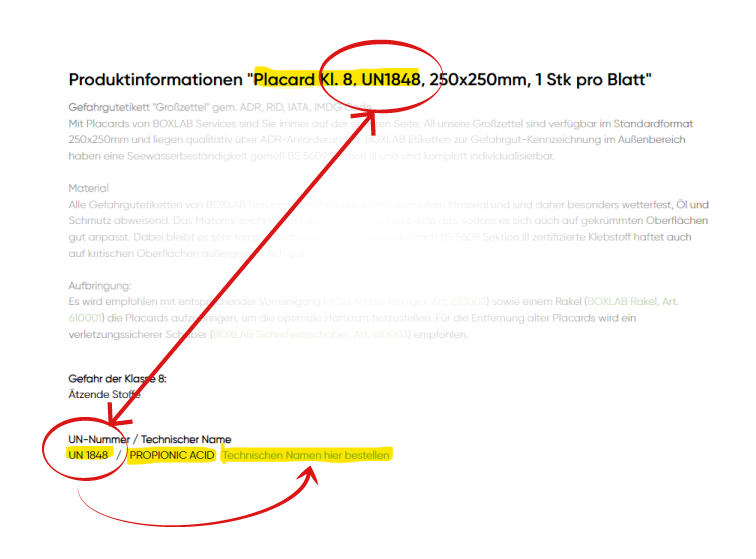 Based on the IMDG Code 2023
The special feature is that we use the current IMDG Code 2023 to map the associated technical names for the UN numbers. So you can be sure that the labels and warning plates comply with the current regulations. In addition, we also offer the option of ordering the orange warning plate with an individual imprint of the UN number and Kemler number to further improve visibility and safety.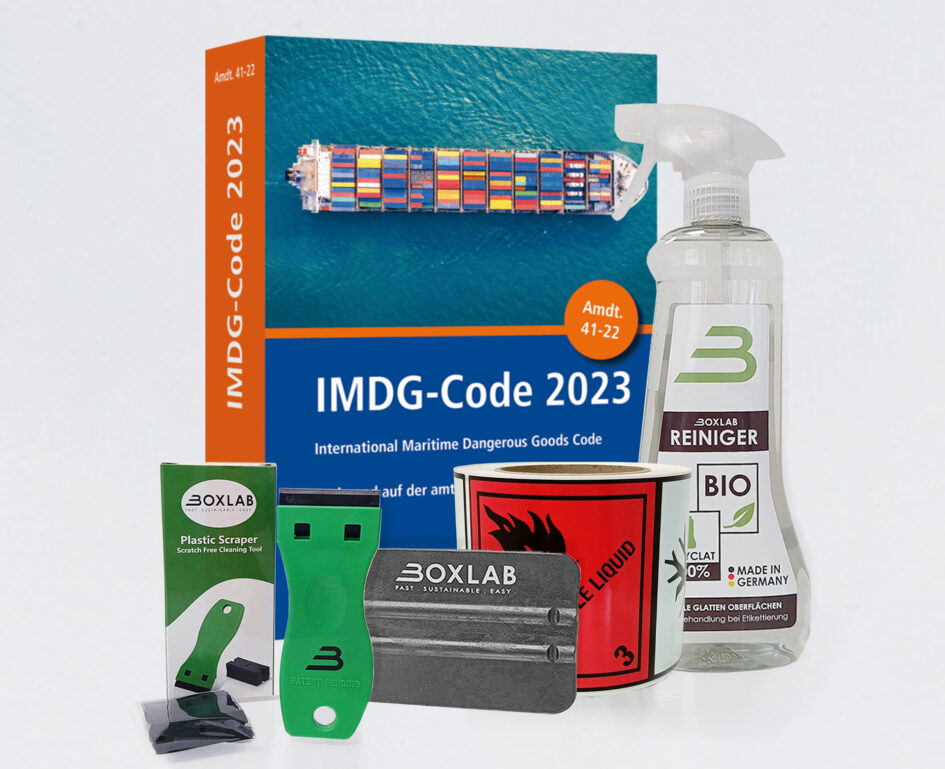 The ordering process becomes seamless and efficient. You save time, avoid errors due to mistyping or faulty data sources and have the certainty that you will receive the right products. With BOXLAB Services, you have all the tools you need for a smooth process at your fingertips.
The benefits of this new ordering process are enormous for everyone involved. Dangerous goods experts can focus on ensuring safety instead of wasting valuable time searching for the right products. Forwarders and shippers benefit from an efficient ordering process that minimises errors and shortens delivery times.
Be one of the first to benefit from this groundbreaking innovation and visit our shop to experience the advantages of the improved ordering process for dangerous goods labels and orange warning signs. At BOXLAB Services we are proud to offer you innovative solutions that improve your dangerous goods management and make your work easier.
Together we are shaping a safer future for the transport of dangerous goods with reliable dangerous goods labels and orange warning signs, as well as the associated technical names!
At BOXLAB Services, quality, service and customer satisfaction are paramount. Despite the economic challenges of inflation, we want to offer our customers high-quality hazard labels at attractive prices. Visit our website to discover the new prices and benefit from the expanded ordering options. We are proud to continue to offer you first-class products and outstanding customer service.
Also on the road?
ADR 2023 - Many changes. Transition period ends on 30 June 2023
It is important to note that the changes in ADR 2023 regarding the marking of lithium batteries are just one of many changes that have been made to make the transport of dangerous goods by road safer. It is essential that all parties involved, from manufacturers to transport companies, comply with the regulations and fulfil their responsibilities for the safe transport of dangerous goods.
At BOXLAB Services, you can not only order the new ADR 188 labels in a variety of designs, but also a handy starter kit to ensure you comply with all the latest regulations. The ADR 2023 Starter Kit not only contains the current regulations, but also a selection of 100 samples of danger labels and/or "Lithium Battery Label ADR Special Provision 188" individually compiled by you.
With the Starter Kit, you are therefore well equipped to implement the new regulations and ensure that your dangerous goods transports comply with the current requirements. Please note that the transitional period for implementing the new regulations expires on 30 June 2023. Order your Starter Kit now and be optimally prepared!