Categories:
Company, Industry News, Products, Starter sets, Tips & Tricks,
Over 30% spare parts! The new ADR 2023 in the BOXLAB Starter Kit
Save more than 30% on our exclusive ADR 2023 Starter Kit
In addition to the current ADR 2023 and 100 individually compiled hazard label samples (single sheet), our exclusive ADR Starter Kit contains a practical safety scraper for removing old labels including risk assessment, our BOXLAB BIO cleaner for quick and optimal cleaning of surfaces, and a practical squeegee for bubble-free attachment of new placards or danger labels for optimal hold.
The latest on dangerous goods transport
ADR 2023
The latest in dangerous goods transport on the road
Regardless of whether it is the sender, packer, carrier or recipient of a shipment – if you are involved in the transport of hazardous goods by road , you must know the applicable ADR regulations very well!
And not only that, but from January 1st, but at the very latest after the end of the transition period from July 1st, 2023, you must actually apply ADR 2023 if you want to have dangerous goods transported by road.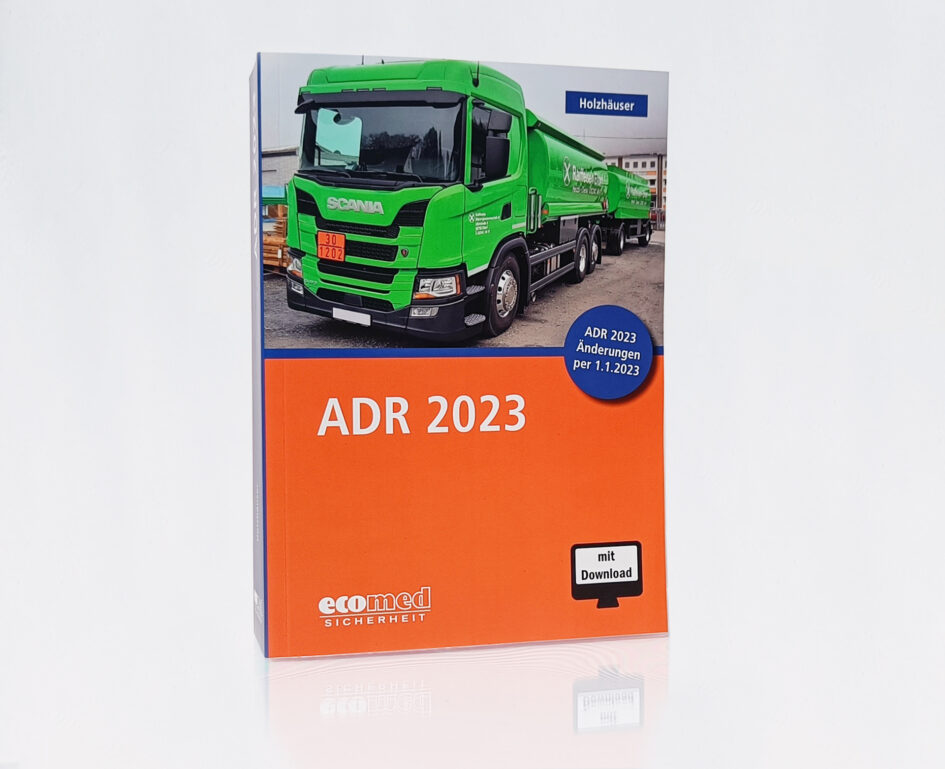 The ADR 2023 from ecomed SICHERHEIT
opens up the complex ADR regulations.
In addition to the wording of ADR 2023, the ecomed book edition of ADR 2023 contains the current legal status:
the Dangerous Goods Transport Act (GGBefG)
the dangerous goods ordinance for road, rail and inland waterway transport (GGVSEB)
the Implementation Guideline Dangerous Goods (RSEB)
the Dangerous Goods Exemption Ordinance (GGAV)
the Dangerous Goods Officer Ordinance (GbV)
the Dangerous Goods Control Ordinance (GGControlV)
an overview of applicable ADR agreements
an alphabetical list of substances
an extensive, detailed index
Everything you need to know about the transport of dangerous goods by road can be found in ADR 2023:
Scope, definitions and transitional provisions
Exceptions and Waivers
Classification and corresponding test methods
Use, construction, design and testing of packaging, IBC, bulk packaging and tanks
Regulations for shipping, labeling, labeling, documentation and transportation
Therefore ADR 2023
your benefits
The special advantages of the ADR 2023 from ecomed for you:
With numerous marginal references to relevant references, ADR 2023 is also included in other dangerous goods regulations, which contain, among other things, simplifications and exceptions. This will tell you straight away whether facilitation is possible for the transport of dangerous goods in question. This means that time-consuming research in the regulations, on the Internet or in the traffic bulletin is no longer necessary.
With around 6,000 entries, the index is particularly detailed and takes into account all the regulations contained in the book. This is how you can find the information you are looking for in the book ADR 2023 quickly and easily.
With the ecomed edition ADR 2023 you are well prepared for the safe transport of dangerous goods on the road!
The carefully prepared source information.
Subheadings inserted by the publisher create a precise structure and you will immediately find the right passage. The official changes in ADR 2023 are highlighted in gray and are immediately apparent.
The most important changes in the new ADR 2023
Waste
Carriage of polymerizing substances as waste in packages (new SV 676)
definitions
Units of measurement and abbreviations (previously under Definitions) are summarized in a separate section (1.2.3)
Container
simplification and clarification of the rules for visual inspection of containers; Inadmissibility of loading in the event of damage to the freight transport unit, meaning of the term structurally suitable clarified (7.3.1.13 and 7.5.1.2)
documentation
Special provisions for entries in the transport document
Salvage Packs
Transport of stabilized and temperature-controlled substances
Carriage of substances in the molten state
the application of special provisions (additional information)
refillable pressure receptacles approved by the United States Department of Transportation
Specifications for entering quantities when transporting waste
pressure vessels
Amended regulations for pressure vessels and their closures
New: Regulations for refillable pressure receptacles approved by the United States Department of Transportation
vehicles
New safety requirements for FL and EX/III vehicles related to automatic fire suppression systems
Large container (7.1.4)
Suitability of large containers from a structural point of view – prerequisite for use for carriage
recycled plastics
New ways of using recycled plastics
special regulations
New SV 396, 397,398
Items with attached gas cylinders with valves
tank container
Rules for oversized tank containers
tanks
New procedures and controls for testing and approval of tanks; Clarification of inspection periods for tanks for the carriage of refrigerated liquefied gases (Chapter 4.3 and 6.8)
New equipment regulation for tanks for flammable liquefied gases with safety valves in 6.8.3.2.9 and new safety valve mark
Tanks (FRP)
New regulations for portable tanks made of fiber reinforced plastics (FRP)
Further development of the regulations for fibre-reinforced plastic tanks – new chapter 6.9
UN numbers
New UN 3550 for COBALT DIHYDROXIDE POWDER Class 6.1 VG (substance entry in Table A)
Changes to numerous UN numbers such as 1002, 1012, 1043 etc.
Deletion of 1169
Packaging
Adaptation of the mass or volume limits for packaging that does not have to be type-approved
Changes to packing instruction P 200
Changes in the use of packaging for lithium batteries (P 911, LP 906)
With Download
Additional information on our ADR 2023 edition is available for download on the ecomed website.
In the book you will find the relevant code and instructions.
The download area contains important changes in ADR 2023 that could not be taken into account by the time of going to press, as well as other current information and supplements. You will also find there:
the ODV
the EU directive 2008/68/EG
a user-related overview of the ADR changes 2023, in which shippers, senders, carriers etc. can directly find the changes that are important for their work.
In combination unbeatable
ADR 2023 and: